With INTERNATIONAL FILM & VIDEO, I wrote and directed the following video programs: Egypt & The Nile, The Death and Times of Dannion Brinkley, and Fritz Scholder, Painting the Paradox.
Book Author, Editor, Magazine Writer, Publications Consultant: I have written or co-written more than a dozen books, three of which have been New York Times bestsellers. I have also edited a variety of magazines, provided editorial consultation for magazines and websites, and published numerous magazine articles. I have also been a professor of journalism, teaching magazine writing at the University of Oregon, as well as a Fellow at the Gannett Center for Media Studies (now The Freedom Forum) at Columbia University in New York City.
BOOKS AUTHORED

I have written or co-written more than a dozen books covering a wide variety of topics, including three New York Times bestsellers. This year I have three books being published: Jesus in Egypt (Ballantine Books), a travel narrative of the Holy Family's flight into Egypt; Return to Treasure Island and the Search for Captain Kidd (Harper Collins), the story of an expedition to Madagascar to find the flagship of the world's most famous pirate; and The Stress Cure (Harper Collins), a co-authored book of how-to advice on dealing with anxiety.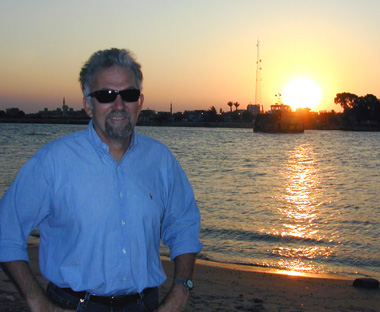 Other books I have written include:
*Expedition Whydah: The Story of the World's First Excavation of a Pirate Ship and the Man Who Found Her (1999, Harper Collins): Called "the perfect summer read," by the Wall Street Journal, this book chronicles the search and discovery of the Whydah, the only pirate ship to ever be found and excavated. It has been featured on television's National Geographic Explorer and in National Geographic magazine.
*Saved by the Light: The True Story of a Man Who Died Twice and the Profound Revelations He Received (1995, Villard Books): This is a biography of Dannion Brinkley, a South Carolina businessman who was struck by lightning and declared dead for 28 minutes. On the New York Times Bestseller List for a year, Saved by the Light was turned into a FOX-TV movie starring Eric Roberts, and has been one of the most viewed FOX movies ever.
*Transformed by the Light: The Powerful Effects of Near-Death Experiences on People's Lives (1992, Villard Books): Co-authored with Dr. Melvin Morse, this book examines the dramatic changes that take place in the lives of those who have near-death experiences. It is a sequel to Closer to the Light and was on the New York Times and Publisher's Weekly Bestsellers List.
*Closer to the Light: Learning From the Near-Death Experiences of Children (1990, Villard Books): Co-authored with Dr. Melvin Morse, this book has sold more than 1,000,000 copies and has been on both the New York Times and Publisher's Weekly Bestseller Lists. Closer to the Light has been lauded for being a scientifically sound examination of the spiritual phenomenon many people have when facing death.
HEALH BOOKS

In addition to editing a variety of health publications, I have also published health number of health books, including:
*Healing Your Heart: A Proven Program for Reversing Heart Disease (1990, Simon & Schuster): Called the "authoritative prescription for prevention" by American Health Magazine, this book is co-authored with Herman Hellerstein, MD, the "grand old man of cardiology" and a professor at Case Western Reserve University in Cleveland. It deals with comprehensive lifestyle changes that prevent and reverse heart disease.
*The Diabetes Cure: A Medical Approach That Can Slow, Stop, Even Cure Type 2 Diabetes (1999, Harper Collins): Written with Dr. Vern Cherewatenko, this book provides a step by step method of successfully coping with Type 2 diabetes.
*Mastering Miracles: The Healing Art of Qi Gong (1997, Time Warner Books): This is an examination of the ancient Chinese medical practice known as Qi Gong as told through the experiences of Dr. Hong Liu, a Chinese physician and Qi Gong master.
MAGAZINES EDITED

Executive Editor of American Health Magazine: I was responsible for much of the editorial content and direction of this 1.1 million-circulation magazine, called by Advertising Age "the most successful start-up of the '80s." We won a National Magazine Award in 1986 for General Excellence. Also developed and edited many special projects, including special sections, single sponsor magazines, and the American Health Fitness Bulletin -- a 3' X 5' wall poster -- which was distributed to 1500 health clubs around the nation.
Editor of Running Magazine: Called "the National Geographic of the aerobic set" by Sports Illustrated, Running featured the work of such authors as Hunter S. Thompson, Edward Abbey, Ken Kesey, National Book Award Winner Barry Lopez, Pulitzer Prize winning photographer Brian Lanker and the noted British illustrator Ralph Steadman.
Managing Editor of Runner's World Magazine: Managed staff and copy at this rapidly growing magazine, caught in the chaos of the running boom. We grew from a circulation of about 200,000 to 800,000 in the two years I was there.
MAGAZINE CONSULTATION

As magazine consultant, I have provided editorial services for a number of magazines and publishers, including Men's Journal, McMurry Publishing, and American Airlines Publishing. Also edited Columbia Hospital's One Source magazine, a publication with a circulation of 4 million. I have also edited and written for a variety of health magazines for hospitals, including About Health, circulation 1.2 million, E-health, and Smart Health, which is distributed to 850,000 people by a dozen hospitals.
MAGAZINE PUBLICATIONS

I have written more than 100 magazine articles for such publications as: National Geographic Adventure, Reader's Digest, USA Weekend Magazine, Prevention, American Way, Astronomy, About Health, Prevention, American Health, Rolling Stone, Outside, Running, Runner's World. An essay published in the March issue of National Geographic Adventure was part of the package that won the National Magazine Award for 2002.
WEBSITE CONTENT

I covered undersea archaeology expeditions to Madagascar three times in 2000 and 2001 for the Discovery Channel's website. This work was done as part of an expedition to find the flagship of Captain William Kidd, history's most notorious pirate. We found the ship, the Adventure Galley, and a Discovery Channel special The Search for Captain Kidd, aired in the summer of 2001.
Health content has also been provided for Medicina News, a Hispanic health website; and Benefit Mall, an insurance website owned by Humana Hospitals.
EDUCATION

Antioch University, M.F.A. Creative Non-Fiction: In process.
Gannett Foundation Media Center Fellow, Columbia University: As a Gannett Center fellow I studied the media's role in the USA's health, looking at ways in which the mass media can bridge the gap between health knowledge (which is high) and significant health changes (which are low).
Arizona State University, B.S., Mass Communications.